DISTINGUISHED FLYING CROSS/PURPLE HEART
Bombing the Oberpfaffenhofen/Wessling Airdrome, Munich
13 June, 1944--a week after D-Day. Target was the Oberpfaffenhofen/Wessling airdrome in Munich, Germany. Twenty-six planes dropped 36 tons of fragmentation bombs. Flak over the target was heavy and enemy fighters made a pass at the formation and damaged several planes before P-51 and P-38 escorts drove them off. One plane failed to return. Flight time for the mission was 6 hours and 5 minutes. During that mission, my father was cited for bravery in action, and was awarded the Distinguished Flying Cross, even though it would be 40 more years before he found out about it!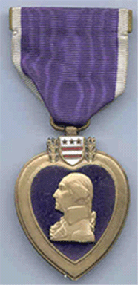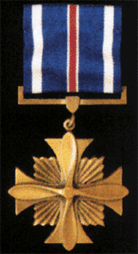 CITATION
DONALD WISE, Serial No. 0-752796, 1st Lt. 15th Air Force, 463rd Bomb Group. Date Awarded: 2 August, 1944. Major General Twining, Commanding.
"For extraordinary achievement in aerial flight as bombardier of a B-17 type aircraft. On 13 June, 1944, Lt. Wise participated in a bombing mission against a heavily defended air field in Germany. Approaching the target, his ship encountered heavy opposition from enemy flak and fighters which severely damaged his ship, and painfully wounded Lt. Wise in the hand and neck. While on the bombing run the squadron lead ship was unable to release its bombs and, immediately assuming the lead of his squadron, with great professional skill and outstanding leadership, despite being painfully wounded, Lt. Wise directed his bombs and those of his formation on the target in the face of continued enemy opposition. His personal courage and devotion to duty, as evidenced throughout fifty (50) combat missions, have reflected great credit upon himself and the Armed Forces of the United States of America."
Despite his wounds and the speedy last-minute changes, Don's bombing accuracy was apparently superb. On 19 June 1944, the Commander in Chief of the Mediterranean Allied Air Force issued a commendation to the 463rd crews for their outstanding work on 13 and 14 June, 1944; specifically for their superb bombing accuracy.
The Commendation stated in part:
. . . "I have just studied carefully the strike and pru photographs of our valuable targets for the last two days. The accuracy of your bombing is tremendously impressive. It appears to me that your Air Force has never done two better days work."
C O N T E N T S:
---
This Website Designed, Created and Maintained by John K. Wise, Youngest Son of Donald Wise
This site has been restored by Jimmy in memory of John Keith Wise (guestbook)