RECOMMENDATIONS/LETTERS FROM THE COMBAT ZONE (1944)
AND SUBSEQUENT MEDALS
-----------------------------------------------------------
LETTER OF RECOMMENDATION FROM COMMANDER OF 772nd BOMB SQUADRON
19 July 1944
Subject: Special Assignment
TO: Whom It May Concern
1. First Lieutenant Donald Wise, 0 752 796, is returning to the Zone of the Interior following a prolonged tour of combat duty with this organization. I have known Lieutenant Wise for over five months, and have found him to be at all times fearless and conscientious in the performance of his duties against some of the best combat teams of the enemy.
2. I heartily endorse any action for improvement in his field which higher authorities may see fit to authorize.
[Signed] JAMES W. PATTON
Major, Air Corps, Commanding
-----------------------------------------------------------
LETTER FROM GROUP CHAPLAIN TO DON WISE'S MOTHER
21 July 1944
Dear Mrs. Maynard:
I have wanted to write to you for some time and let you know that I had met and become very well acquainted with your son Lt. Donald Wise.
Lt. Wise has I believe attended church every Sunday since we've been overseas. He has stopped in to see me at the tent several times and I have so enjoyed the fine talks that we have had.
You can be complimented on the fine training and background that you have given your son. He is one of the most upright and upstanding young men that I have met since I've been with the Bomb Group. A thorough Christian background does help to mold a fine and pleasing character.
Let us all pray for the day when we may return home to our loved ones. Everyone over here is just waiting for that time to come.
May God keep your son safe,
[Signed] HAROLD J. HOFFMAN, Group Chaplain
-----------------------------------------------------------
AWARD OF AIR MEDAL WITH FOUR OAK LEAF CLUSTERS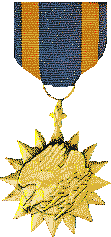 Captain Donald Wise, A0752796, Awarded 1944.
Awarded for flying regular combat missions over Europe. With the medal were awarded four Oak Leaf Clusters for flying 50 completed missions over enemy territory.
-----------------------------------------------------------
AWARD OF AIR FORCE COMMENDATION MEDAL FOR DISTINGUISHED SERVICE AS NUCLEAR ORDNANCE SUPPLY OFFICER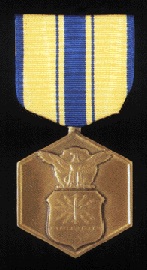 FROM 1 December, 1959 to 21 January, 1963
Captain Donald Wise, A0752796, USAF, distinguished himself by meritorious service while serving as Nuclear Ordnance Accountable Supply Officer, 66th Munitions Maintenance Squadron, 4043rd Strategic Wing, Wright-Patterson Air Force Base, Ohio, from 1 December 1959 to 31 January, 1963. During this period, Captain Wise demonstrated outstanding initiative, resourcefulness, and managerial ability in the development and growth of a newly-formed Munitions Maintenance organization which contributed immeasurably to the effectiveness and success of the 4043d Strategic Wing. The distinctive accomplishments of Capt Wise culminate a distinguished career in the service of his country and reflect credit upon himself and the United States Air Force.
-----------------------------------------------------------
C O N T E N T S:
---
This Website Designed, Created and Maintained by John K. Wise, Youngest Son of Donald Wise
This site has been restored by Jimmy in memory of John Keith Wise (guestbook)