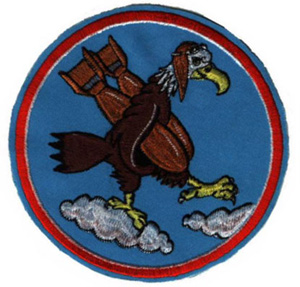 PATCH OF THE 772nd SQUADRON
The 463rd Bomb Group consisted of four squadrons of B-17 bombers. The four squadrons were the 772nd, 773rd, 774th, and 775th. Lt. Col. Elmer H. Stambaugh served as temporary commander of the group until August 27, 1943 when Lt. Col. Frank Kurtz, a former member of the 19th Bombardment Group, arrived and assumed command of the group. (Col. Kurtz is the father of Swoosie Kurtz, an actress that is well known in Hollywood nowadays.) Major James W. Patton was the commanding officer of the 772nd Bomb Squadron. Late in December, 1943, the group was moved to Lakeland Army Air Field in Florida where they went through heavy training to prepare for overseas duty. The ground crew echelon departed for Italy on Liberty ships and the air crews flew from Morrison Field in West Palm Beach, Florida, where they were briefed for their flight via the South Atlantic route to Africa and then to Italy.
The 463rd flew its first mission as a group on March 30, 1944. As a result of the May 18, 1944 mission to bomb Ploesti, Romania, the Group received a Unit Citation in the name of the President of the United States as public evidence of deserved honor and distinction for the hazardous mission, where six bombers were shot down. The 463rd flew it's last combat mission on April 26, 1945, having completed 222 missions.
---
This Website Designed, Created and Maintained by John K. Wise, Youngest Son of Donald Wise
This site has been restored by Jimmy in memory of John Keith Wise (guestbook)