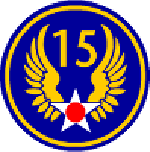 THE 15th AIR FORCE
The 15th Air Force was officially activated on November 1, 1943, before Italy was liberated from the Nazis. Headquartered first at Tunis, Tunisia, Major General James H. Doolittle was its first Commander. One month later, the 15th Air Force Headquarters was moved to Bari, Italy, and remained there until the end of the war. Just a month later, Major General Nathan F. Twining succeeded Gen. Doolittle as Commander. When it first began, eleven combat groups were permanently transferred to it by the 12th Air Force. These included four B-17 groups and two B-24 groups. Included were three P-38 and one one P-47 (fighters) group. In addition, there was one Reconnaissance group.
In December, 1943, a B-24 group arrived from the United States. Five more B-24 groups arrived in January, 1944. In February and early March, 1944, four B-24 groups were added. And between mid-March and May 10, 1944, the 15th Air Force received that balance of it's bomber and fighters. Notably, the 463rd Bomb Group became operational in the 15th Air Force on March 30, 1944, and was assigned to the 5th Bomb Wing. With the arrival of this Bomb Group, Don Wise began his combat experience.
In just 18 months of operations, the 15th Air Force would, by itself, destroy half of all the fuel production capacity in Europe and a great portion of the German fighter production. In addition, the 15th rendered much of the enemy's transportation system over half of occupied Europe useless. The 15th flew 148,955 heavy bomber sorties and 87,732 fighter sorties, dropping 303,842 tons of bombs on enemy targets in 12 countries, including major installations in eight capital cities.
During that same 18 months, the 15th Air Force, in destroying much of the enemy's warmaking capacity, lost 3,000 bombers and 400 fighter planes. Fighter planes from the 15th destroyed 1,496 enemy planes, 1,600 locomotives, 1,400 rail cars, and 800 motor transports.
---
This Website Designed, Created and Maintained by John K. Wise, Youngest Son of Donald Wise
This site has been restored by Jimmy in memory of John Keith Wise (guestbook)